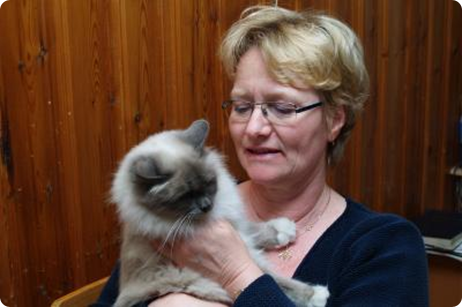 Yoshiko and I Jan. 27th 2009
My name is Ingrid Gustavsson and I live in a suburb 10 km north of Kalmar on the southeast coast of Sweden.
I live here together with my husband Jan-Olof, our (at the moment) three Birmans and the German Shepherd Ginza. Our three children have left home and have their own families. We have just got our ninth grandchild (May -08).
From the beginning my biggest interest was dogs and 1985 I got my first New Foundland dog, Belina .She was 8 months and had lived in a other family before she came to us. Later the same year I bought a half sister to her as a puppy. Her name was Cinderella, Cindie. Her breeder borrowed her for four litters and it was always so nice every time I had the pleasure to follow the birth and growth of the puppies. After a couple of years our third dog, Lisen, came to us. She was a puppy of Belina's.
I was competing in obedience with Cindie and became engaged in a working dog club In Kalmar. I was assisting in obedience classes and classes for puppies for a couple of years and 1994 I became an instructor at the dog club. At the same time I bought my first working dog a German Shepherd called Elfi. I started to compete in tracking and obedience with her. I had still two New Foundland dogs at the time, but at Christmas 1996 Cindie died and a couple of years later Lisen was gone. In the year 2000 I got my second Shepherd and I went on with my development in different fields of dog knowledge. I became responsible for the mental section of our club and learned to be a figurant at mental tests and later also a mental "test leader". Mentality is a very interesting topic whether it's about dogs or cats.
For different reasons I suddenly lost my dogs 2003 and then I thought I would get a cat while I was waiting for a new puppy. I have always liked cats but hadn't got an opportunity to get one before. I started to look at different races in alphabetical order and it didn't take long before Birman appeared before me. I was instantly
captivated by its incredible beauty and went through all advertisements I could find at the internet. In November 2003 we were fetching our first Birman S*Amore Gatti Nemesis, Nessie, (sealpoint) and I were sold. After half a year Ginza (the puppy) came to us and Nessie did immediately tell her who the leader among the animals was. Ginza was soon many times bigger than Nessie but that didn't bother her at all.
My interest for cats increased and 2005 we greeted S*CatimonMaja (sealtabby point) to our house. The year after S*Possum's Yoshiko (bluepoint) moved in with us. The thought of breeding started to grow a bit in my mind and at last in February 2007 I Got my cattery name S*Ipajemo's registered. The same month I fetched my first male S*Catcha'z For Real "Totte" (sealpoint). I had one litter after him together with Yoshiko and then he had one litter at another cattery before he was castrated. But I bought together with Nettan at Wanjeena's cattery a son of his, Simon, for future breeding.
Unfortunately I had to castrate Maja after a womb infection and looked for a new female for breeding. In July 2008 we got Alba (lilacpoint). I saved Cornella (sealpoint) from the C-litter 2008 and she lives nearby with my daughter Eva and her family.
Unfortunately Alba and the other cats diden't get on well together so when her kittens had moved to their new homes, Alba got a new home as well. I miss her a lot.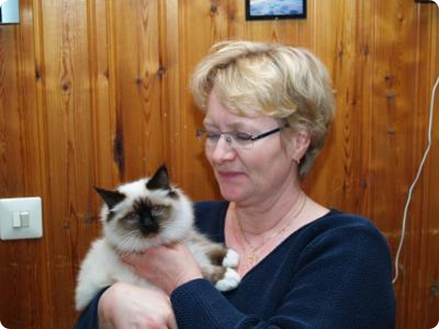 and here with Celine